SENIOR'S PROJECT
Added: 21.12.2016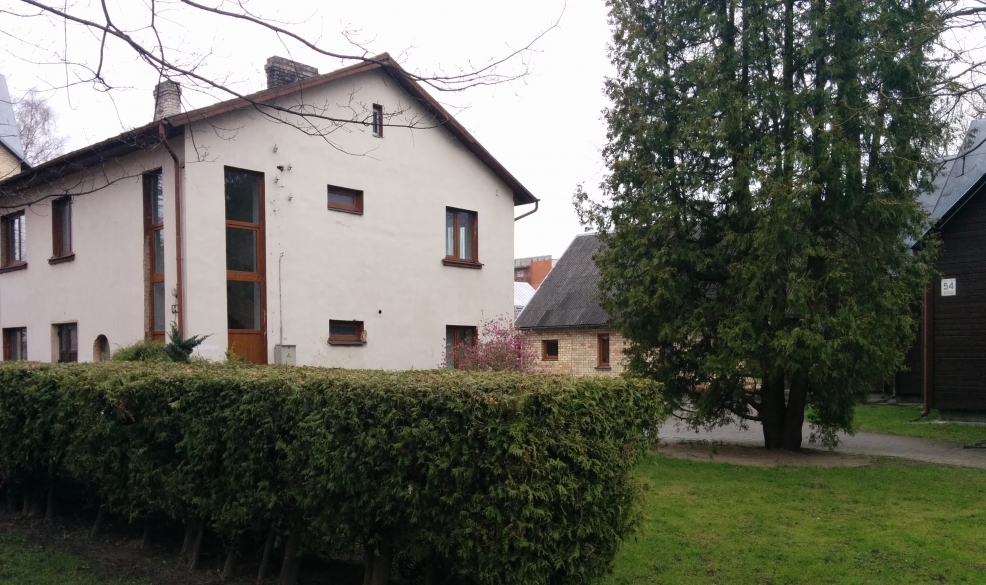 SENIOR'S PROJECT
By Jelgava Baptist church
Jelgava Baptist church was founded in 1874. Currently the congregation has its own building for worship with 180 seats and utility rooms, a two-story building where Sunday school classrooms, the church office and rooms planned for a Family support center are located. At the moment the congregation has about 150 active church members of different ages. We have a Sunday school (30 children), choir (25 singers), youth ministry (10 youth), men's ministry (8-10 men), senior/women's ministry (15-20 members).
Jelgava is the 4th biggest city in Latvia (about 57,000 inhabitants), it is located 45 km South of the capitol city Rīga. The Jelgava region (30 km radius) has 36,000 inhabitants. Jelgava was founded 750 years ago and always has been a center of politics, manufacturing and trade.
Nowadays Jelgava is an industrial city and has many educational opportunities. In Jelgava there is the University of Agriculture of Latvia, vocational education schools such us Jelgava Technical school (which is located 500 m from the church), high schools (one of them is 300 m from the church), Zemgale Region Human Resource and Competence Development Centre, a music school and an art school.
Manufacturing in Jelgava is well developed; there are successful companies in woodworking and metalworking and also agriculture.
The biggest congregations in Jelgava are the Catholic Church, two Lutheran churches, two Orthodox churches, and two Baptist churches. All of these churches have a good collaboration with the city government. Other congregations are Methodists, two Pentecostal churches and about 10-12 free churches.
Church outreach/mission goals and strategy
The vision of our church – it is the place where a person's life is changed.
1. The main focus – families (children, youth, parents, men). Family is seen as the foundation on which to build a healthy society. We seek to strengthen families because the family is the best environment for educating and raising children. Strategy – Vacation Bible School, Sunday school, lectures for parents, boys' workshop, men's small group, summer camp.
2. Support foster families, families with children with special needs, single-parent families in their psychoemotional needs. Strategy – Family support center, lectures, consultations, classes.
3. Social work, ministering in social care institutions, support for low-income or senior families in their daily needs.
SENIOR'S PROJECT
Relevance of project
Since the independence of Latvia in 1991 our country has experienced several economic crises. In 25 years it has not been possible to establish a fair pension and social support system. Because of different pension systems in Soviet times and now in independent Latvia, many seniors' pensions are lower than the subsistence minimum in the country (pension is about 180-220 euros per month). Often half of pension is spent just to pay utilities and very little is left for food and health care.
In this case seniors cannot afford to promote their health – visit doctors, buy medicine, to go on holiday, travel, visit different events. By implementing this project church seniors would have the chance to enjoy equal opportunities and to decrease their worries about health and other problem situations in their lives.
Purpose of the project, planned outcomes
The purpose of project is to improve church members' (seniors') social situation and quality of life, support health promotion. Till now two times a year (Christmas and Easter) the church has given food packages, organized a celebration lunch. Since the 90's the church has received humanitarian aid from Sweden (clothes, shoes), and that was really important in the early years of independence when most people in Latvia had a high risk of poverty.
In the project it is planned to organize:
- 2 two-day-long excursions per year, paying for transportation and meals
- 1 experience sharing and fellowship event with seniors from other churches, paying for transportation and meals.
- 2 events outside the church building, visits of museums, exhibitions, theater and creative activities, including lunch.
- To establish a social support fund for hospital costs, participation in Baptist Union camps, in problematic situations.
- To take part in services at social care centers and homes (snacks, financial support if needed).
Tasks, stages, steps that have to be taken in order to realize this project
Currently church women are active in church life. Ladies take part in social help activities as it has been historically practiced in Baptist churches in Latvia. To expand work with seniors it is necessary to include church men – deacons and practical workers, who could get involved in senior support activities.
And also younger church members could get involved to achieve better fellowship between generations.
Person responsible for implementing the project from your churchRoles/tasks of collaboration partner team:
- Lecturer who could tell about senior health and psychological aspects of aging.
- Team who could visit social care institutions and seniors at home.
- Fellowship and creative activities organizers – crafts, cooking, exercising etc.
Expected budget for the project
- 2 excursions per year for 30 persons
1 day excursion
Transportation 350 euros
Lunch and coffee pause 300 euros
Museums 150 euros
2 days excursion
Transportation 500 euros
Lunch and coffee 750 euros / 25 x 30
Overnight stay 750 euros
Museums 300 euros
- 1 experience sharing and fellowship event together with other church seniors
Transportation 300 euros
Meals 600 euros
- 2 events a year with a celebration lunch
Lunch 250 euros
- Social support fund
About 1000 euros per year
Person responsible for implementing the project from your church
Leader of women's ministry Lailita Lukstiņa, tel. +371 26184114, lailita.lukstina@inbox.lv
← Other projects