Evening worship services
Added: 21.12.2016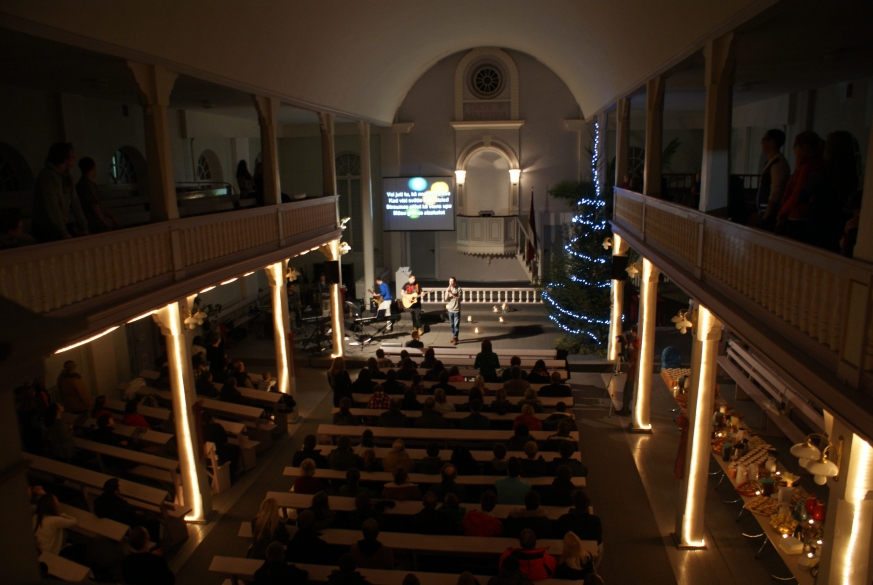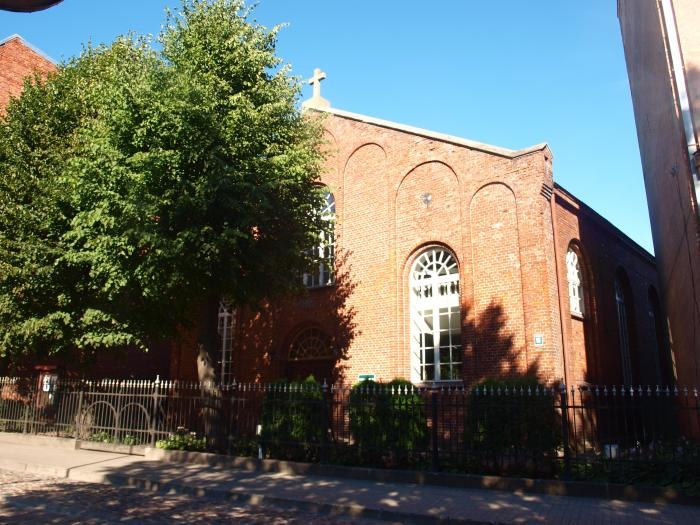 Evening worship services
By Paul's Baptist church of Liepaja
Every Sunday our church is attended by about 170 people. A large part of our church is the old generation, less - the average generation, but lately more and more people from the younger generation, youth and children, are starting to attend the church as well.
Church serves two pastors – Martins Balodis and Toms Bermaks.
The church has different ministries: Sunday school, teenagers and youth, women's ministry, chorus, worship teams, small groups, Pavila church Bible school, missions, sports, etc.
Our worships services in recent years have become in more nowadays worship form instead of traditional way of doing Sunday worship services.
Paul's church also participates in Liepaja City Council organized projects competitions and several times has received the support of the City church activities.

About demographics of location of the church
Church is located in the Liepaja very center, near the seaside park. The city is located by the Baltic Sea coast. Liepaja is the third largest city in Latvia and the tenth largest in the Baltic States. Liepaja is located between Baltic Sea and Liepaja Lake by interconnecting Trade channel. As a special dike from new town of Liepaja till Lakeshore runs the tram line. It is the oldest electric tram line in the Baltic's, and Liepaja is one of three Latvian cities, that have a tram available as the transport vehicle.
Liepaja is the culture and sports city. It is known for its wind and sea amber. The city, after official data (year 2014), has 71.125 people, but actually has about 60,000 people. Liepaja port is one of the largest Latvian ports, which also gives many work places for people.
Church outreach/mission goals and strategy.
1) Youth
a. Youth event "Restart" is happening every Friday at 7pm, in the church premises, from the age of 13-18. There we study the Bible, praise and worship, have movie nights, games, discussions, etc.
b. Youth event "Fusion" is happening every Wednesday at 7pm, also in the church premises, from the age of 13-20. "Fusion" is a musical lesson's for amateurs, where they can play and learn instruments and also sing, of their own choice, and sing in common choir all together Christian and also non-Christian songs. This project is done in collaboration with the youth association "Josiah Venture".
During these weekly activities, we pray, worship, we have Bible studies, topical discussions, Christian and also non-Christian movies, we try to tell youth about Jesus and how important it is to know Him. Most of the young people do not come from the church, but from the outside, which gives us an excellent opportunity to proclaim the gospel. Also "Fusion" evenings are a great opportunity through music and relationships with youth to proclaim the gospel, because about 80% of the youth who visits the "Fusion" evenings are not Christians. So every evening we share one Bible scripture and try to give them a little insight into what is the true God.
2) Sunday school
a. Sunday school at the age of 1-7 takes place on Sunday during the service, and the age of 8-12 takes place on Saturdays at 11:00am.
b. "Summer Bible School" (day camp) takes place for one week in June. The camp invites children at the age of 6-12. Some of them are children of non-Christian families.
In Sunday school classes for children they are taught the Word of God in a way they understand - through pictures, illustrations or stories. Sunday school takes place on Saturday and Sunday. Saturday is for children aged 7-12 years, because it gives them the opportunity to engage in a Sunday worship service and also serve as usher or collective collection services. But on Sunday during the service, Sunday school is for children up to 7 years of age, where children have the opportunity to hear Bible stories in a way the understand, while parents can be at church service.
Evening worship services
Relevance of project
In our church we have older people, but recently younger people have started to attend. Since October 2016 we have started Evening worship services every Sunday. And through this project church would have more knowledge and ideas how to reach, with more effective worship services, more people for Christ who think that church is boring and old fashioned. We would like that you, church in Oklahoma, would help us to plan and make a more appropriate and nowadays style Sunday worship service with new ideas, practical service elements, technology introduction etc.
Purpose of the project
1) Church's and planning team members would have a glance of how Sunday worship services are done in other countries and with your church's help to make a modern day Sunday service in Liepaja for younger generation and middle age people.
2) Citizens of Liepaja would have a chance to participate in modern day Sunday worship service.
3) New ministry opportunities would also take place that have never been practiced in Latvia, or if have, than we here don't have enough knowledge and/or equipment to do it.
4) Those people who are not attending Sunday services could be reached
Tasks, stages, steps that have to be taken in order to realize this project
1) Evaluation of shape and content of current Sunday evening service
2) Guest church's ideas and suggestions
3) Planning and developing a new look for Sunday evening service
The resources, what church is planning to use in implementing this project
a. From our congregation involved, at least 4-5 people from Sunday evening service planning team
b. There would be invited other people from church with particular gifts if needed for new ideas and/or suggestions
c. Premises for Sunday evening service
d. Equipment for Sunday evening service (Laptop, sound system, projectors etc.)
e. Reception of guest team from Oklahoma

How many people on collaboration team would be necessary for implementing this project:
The size of guest team depends on church's capacity and options in people resources available for this project
Roles/tasks of collaboration partner team
Participating with local Sunday evening service team to plan and develop evening service new look and content, which would be respective for 21 century people, but keeping Gospel in center. As well as providing practical suggestions and skills on how the planned ideas to put into practice.
a. Developing content for Sunday evening service
b. Information technology use during Sunday evening service
c. Worship band potential action methods
d. Fellowship ideas and manners before and after service etc.
Expected budget for the project
At the moment there is none expenses, but they can arise in the planning process if necessary equipment or resources for our church are not available.
Person responsible for implementing the project from your church
Toms Bermaks – project organizer, preacher/youth leader; tbermax@gmail.com; +37120195003
← Other projects